Advertising Opportunities
Do you want to promote your company to a highly targeted group of people who love horoscopes, psychics and tarot readers?
My Daily Horoscope Could Give your Business the Advertising it Needs
With over 100,000 impressions per month, mydailyhoroscope.org can give you the quality intent-based traffic you have been looking for.
We limit the number of promotions that we run at any given time so your campaign is given the utmost attention. All of our ads are visible on mobile platforms.
Premium Banner Ad – $150 to $250 per month
Header Image Ad – 1200 x 250 responsive image ad (static) placed on the header below the navbar; the image can be added to specific pages at varying costs (see below). Image ads are offered on a monthly basis.
Home Page Ad – $250 per month – https://mydailyhoroscope.org/
Daily Horoscope Page Ads – $250 per month total for one ad on all 12 pages – https://mydailyhoroscope.org/capricorn-daily-horoscope/
Love Horoscope Ad – $250 per month for 13 love horoscope pages – https://mydailyhoroscope.org/love-horoscope/
Career Horoscope Ad – $150 per month for 13 career horoscope pages  – https://mydailyhoroscope.org/career-horoscope/
Couples Horoscope Ad – $150 per month for 13 couples horoscope pages – https://mydailyhoroscope.org/couples-horoscope/
Money Horoscope Ad – $150 per month for 13 money horoscope pages – https://mydailyhoroscope.org/money-horoscope/
Mom Horoscope Ad – $150 per month for 13 mom horoscope pages – https://mydailyhoroscope.org/mom-horoscope/
Cat Horoscope Ad – $150 per month for 13 cat horoscope pages – https://mydailyhoroscope.org/cat-horoscope/
Dog Horoscope Ad – $150 per month for 13 dog horoscope pages – https://mydailyhoroscope.org/dog-horoscope/
Example Layout: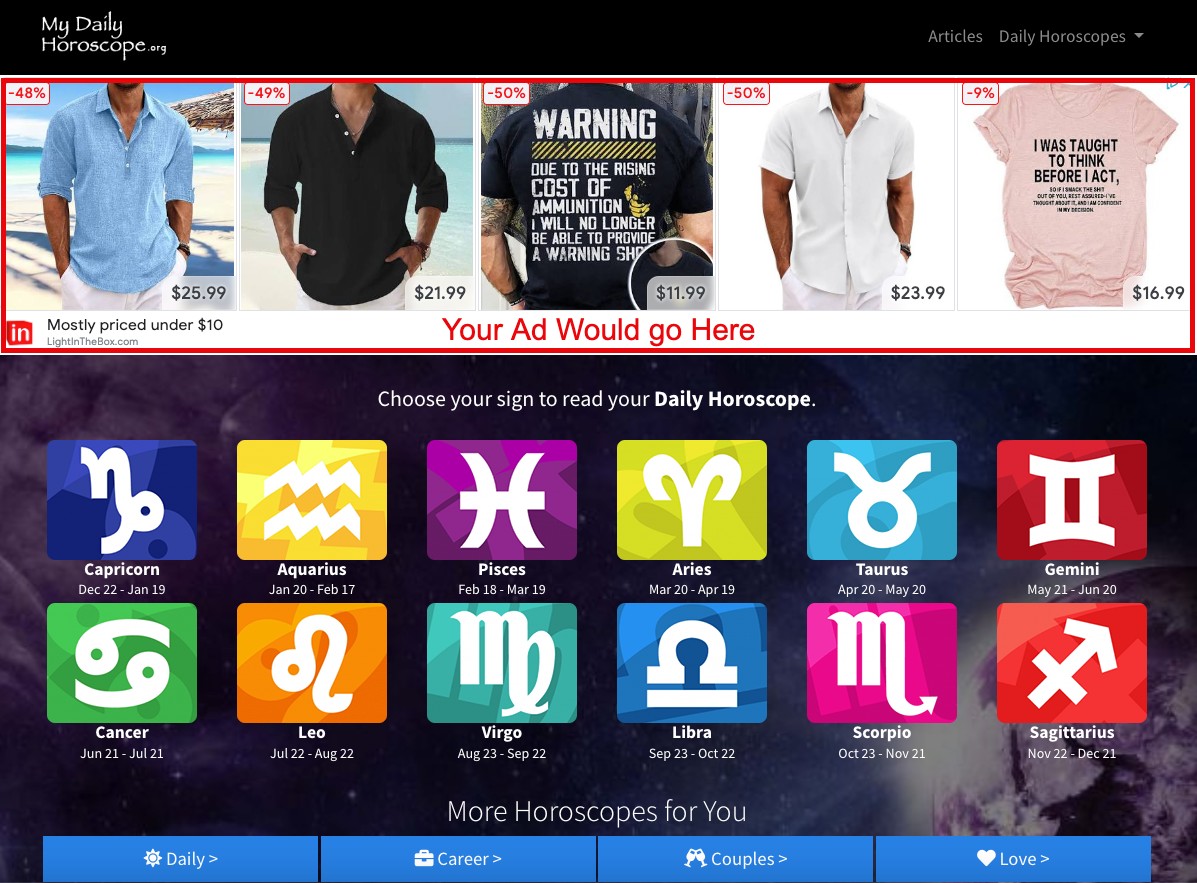 Contact Us To Learn More About Advertising